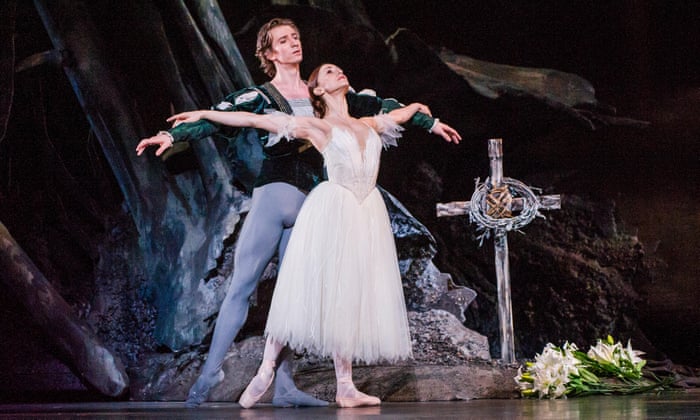 The Royal Ballet's Giselle is a beautiful production, top to bottom. The set design is great, the costumes are lovely and wonderfully detailed, the props are similarly well constructed and detailed – despite the fact that no one in the audience can see the crests on the sword and the hunting horn, they're there. Of course, with the benefit of cinematic closeups, the audience in theaters could see those details, and appreciate them. 🙂
The filming was a double-edged sword, though. Nice to be able to see facial expressions, but sometimes the cameras were focusing on someone or something I didn't want to be watching. And this is a silly thing, but I was very distracted by Marianela Nuñez's ribbons at first (they were peeking out a bit, and with the closeups I could see it).
That's easily forgotten, though, because Marianela (Giselle) is simply phenomenal. Throughout the first act, she exhibited stunning balances, beautiful legs, highly-controlled turns, and fiery petite allegro.
Vadim Muntagirov (Albrecht) matched her for technical ability, with nice lines, clear beats, and great elevation in his jumps.
Frankly, the whole cast does a great job with what is a really jumpy ballet. Seriously, it made me tired just watching! The featured pas de six was well done, though it would have been even better if Yuhui Choe didn't drop her smile right before her turns. Her partner (Alexander Campbell) looked a bit rough in his tours, but the other two men (Luca Acri and Marcelino Sambé) are ones to watch.
The character roles were also well done. Elizabeth McGorian as Berthe was very naturalistic and convincing. Christina Arestis did a pitch-perfect Bathilde: elegant and refined with a bit of a sneer. She reminded me of Anna Chancellor's performance as Caroline Bingley in the 1995 BBC miniseries of Pride and Prejudice.
Act I finished with a beautifully affective mad scene. Marianela is so expressive in both facial expression and movement!
Act II, though, is what really makes or breaks a Giselle. It's a classic Romantic ballet blanc, but interestingly where other ballets have a corps made up of male fantasies (La Bayadère) or women trapped and waiting for rescue (Swan Lake), in Giselle the women get to be dangerous. I'm not saying it's a feminist ballet by any means, but I am saying that watching a mass of Wilis advancing menacingly on Hilarion gives me goosebumps.
Itziar Mendizabal certainly has the bone structure to play Myrtha, the queen of the Wilis (holy cow, those cheekbones), but unfortunately her expression was more startled than imperious. As for the dancing…she's obviously good, but underwhelming in comparison to the rest of the talent in the cast. Particularly, she starts to drag at the end of long jump sequences.
I did like the two lieutenant Wilis: Olivia Cowley had beautifully supple port de bras, and Beatriz Stix-Brunell impressed me with her liquid rolls down from en pointe. 
As the ghostly Giselle, Marianela was simply sublime. I can't even express how beautiful she was: her absolute control in rolling down from pointe, her ridiculous balances, suspended turns, insane extensions, sparkling petit allegro…and her pas de deux with Vadim was achingly lovely. Perfect, perfect, perfect.
Giselle is a ballet that isn't quite a tragedy – love conquers all – but isn't quite a comedy either (no wedding). And its style is a bit archaic, with its Romantic lines (though the Royal Ballet/Producer Peter Wright did a marvelous job of making it feel theatrical and modern). But with a production like this — and a cast like this — it's a must-see for all.